Sunday, December 18th, 2022 — As the temperatures drop, so does the safety of drivers in New Mexico. With bitterly cold temperatures and increasing clouds tonight, the potential for dangerous driving conditions is increasing.
Winter Driving Safety: Preparing for Cold Weather Conditions in Albuquerque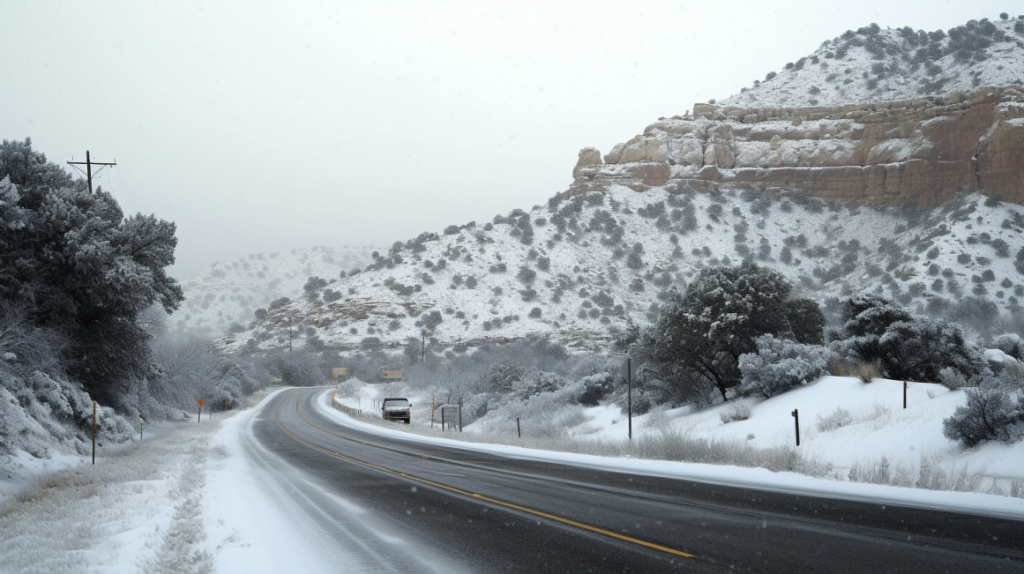 Cold weather brings with it a number of potential hazards for drivers. As temperatures plummet, roads can become icy and slick, making them difficult to navigate. Due to cloud cover and fog, low visibility can also be a factor. These conditions can be especially dangerous for drivers who are not experienced with winter driving.
In addition, the cold can cause car batteries to malfunction and tires to lose air pressure. This can lead to a number of car problems that can cause drivers to be stranded or cause accidents. Drivers should make sure to check their car's battery, tires, and other components regularly, especially when the weather is cold.
Increasing clouds, cold temperatures, and potentially slippery roads can create disaster. Drivers should take extra precautions when operating their vehicle in these conditions. They should drive slowly, maintain a safe distance from other cars, and use their headlights and taillights when visibility is low.
Driving in cold weather can be tricky, and if drivers are not prepared, it can put them and other drivers at risk of a serious accident. By taking extra precautions and driving safely, drivers can help ensure that they and others stay safe on the roads this winter.
Stay Safe This Winter: Preventing Slips and Falls in Albuquerque, New Mexico
Winter in Albuquerque, New Mexico can be a beautiful time of year, but it can also be a dangerous one if you are not prepared for the cold weather conditions. Every year, people in Albuquerque are injured due to the harsh winter weather, and as a personal injury lawyer, I want to ensure that everyone knows the risks and how to stay safe.
When temperatures drop, the most common type of personal injury comes from slips and falls. Icy walkways, snow-covered driveways, and even slick sidewalks can be very dangerous during winter. To prevent falls, make sure to wear appropriate footwear with good traction. Lay down salt or sand on walkways and driveways to help melt away the ice. Even if you can't access salt or sand, kitty litter is a great makeshift alternative.
Also, be sure to dress appropriately for the cold weather. This means wearing multiple layers that can be removed if you become too warm. Protecting your extremities by wearing a hat, gloves, and a scarf is also important. This will help to keep your body temperature regulated and prevent hypothermia.
Be Aware of the Dangers of Cold Weather: Signs of Frostbite
You should also be aware of the signs of frostbite, which can happen when skin is exposed to cold temperatures for too long. Signs of frostbite include numbness, redness, and even blisters. If you think you may have frostbite, seek medical attention immediately.
Finally, you should always be aware of the dangers of carbon monoxide poisoning. Carbon monoxide is odorless, colorless, and can be deadly if it builds up in an enclosed space. To prevent carbon monoxide poisoning, inspect your heating systems annually and ensure your home is well-ventilated.
As a personal injury lawyer, I want to ensure my clients are informed and safe during the cold winter months. Following the tips outlined above can help prevent slips and falls, frostbite, and carbon monoxide poisoning during winter. Stay safe and enjoy the beauty of a New Mexico winter!